Competition

Children's pictures of healthy Abingdon
Competition
During this time of lockdown we invite children to create pictures which illustrate what a good place Abingdon is to become healthy and stay healthy. The best pictures will be used to advertise the Healthy Abingdon charity on our web site, Facebook page and in other publications.
There will be two prizes, each of a £15 voucher to spend at Mostly Books Abingdon. One prize will be for children of 5 to 10 and the other for children of 11 to 15.
Mostly Books have kindly contributed to the prizes.
The picture
The picture should show people engaged in healthy activities such as walking, cycling, running, jumping, gymnastics or anything else you may think of. You need also to include in the picture something which relates it to Abingdon or Healthy Abingdon Charity. For example, you might include people exercising in a well known place in Abingdon like this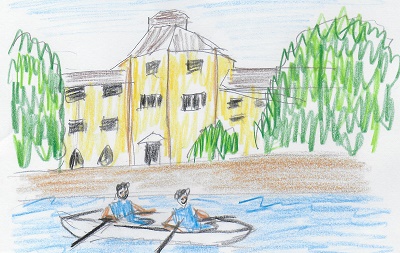 Rowers on the Thames in Abingdon near the Old Gaol
Another way to do it would be to include all or parts of the Healthy Abingdon logo in the picture. You might also just use the colours of the logo in the picture. To remind you, here is the logo.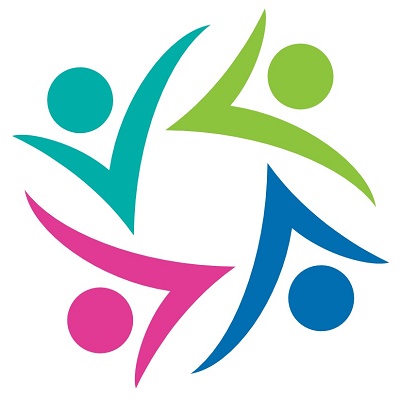 Healthy Abingdon Logo
Here are some example pictures using the logo to give you an idea.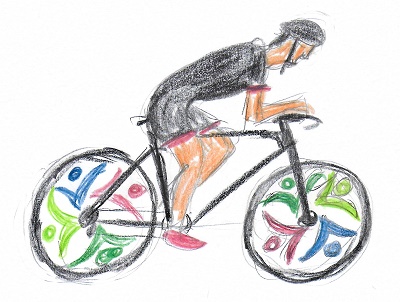 Picture of cyclist including the logo in full

Using parts of the logo to illustrate swimming.
Please don't do any pictures which show anything dangerous.
How to send us your picture
Just take a photograph of it and get your parents or guardian to send it to us as an email attachment. They should include in the email your name, age post code and telephone contact number. If you are able to scan the picture, even better.
Please keep the original picture safely in case, after the lockdown, we want to get a high-quality scan of the picture.
Note that sending a picture to us gives us the right to use it in our publications or on line but we won't use your name without your parents' or guardian's permission.
When do we need your picture
Please send us your picture before the end of the day on Sunday 10 May. We have extended the deadline from Friday 8 May to give you the weekend to to create your work of art.
Email: healthyabingdon@aol.com
We will let you know if you have won a prize by Friday 15 May.
"Get creating now"