News from Healthy Abingdon

Working together to improve health and wellbeing in Abingdon-on-Thames
Healthy Abingdon Event on helping community groups, Thursday 6 December 2018
Posted 7 January 2019
Healthy Abingdon aims to bring community groups and statutory bodies together to improve health and wellbeing in the town. to do this well, we need a thriving community sector. This event was therefore to bring together the various organisations that can provide health and advice to community groups and small charities.
The meeting was very lively and was attended by 28 people - see pictures below.
The meeting was chaired by Ros Alstead OBE of Healthy Abingdon and involved the following presentations.
Dave Butterworth of Healthy Abingdon covered what drives community groups and why they need help from the organisations giving the following presentations. View slides.
Roz Warren of Charity Mentors explained how they could provide experienced people to help mentor groups who needed to develop their operation and activities.
John Hayes of Oxfordshire Community and Voluntary Action (OCVA) outlined the range of services they provide to voluntary groups.
Hillary Lombard of Community First Oxfordshire explained some of the ways the charity workes with the community. View slides.
Maurice McCartney talked about The Student Consultancy at Oxford University could provide teams of students to work on projects. An example of a project on Abingdon can be found here.
Grant Hayward of ROBIN (Responsible Oxfordshire Business Involvement Network) described how the network brings businesses and community groups together to pride help to the voluntary sector which does not involve transferring money.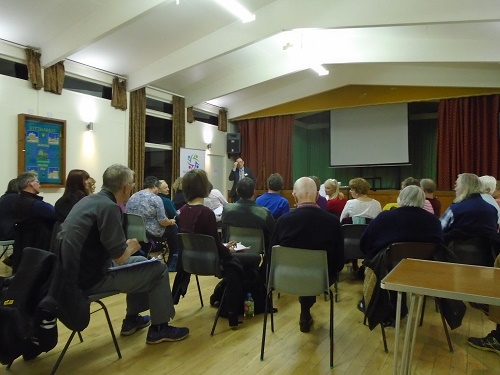 Maurice McCartney making his presentation
In addition to these presentations, Pat Bryden announced that a new group called Parkinson's Exercise to Live Music had been set up in Abingdon. Find out more.
Following the presentations, attendees had chance to talk directly with the presenters.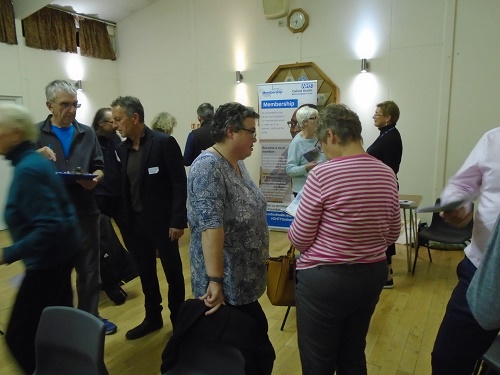 Individual discussions following the presentations
The next meeting will be in the new year and we hope to have something on music for therapy and wellbeing.
---
Healthy Abingdon Event on helping those with mental issues, 25 September 2018
Posted 16 October 2018
This was a lively event attended by 25 people including health professionals, people from the voluntary sector, members of the public, representatives of the health trusts and community police officers. The meeting was chaired by Ros Alstead OBE, a director of Oxford Health.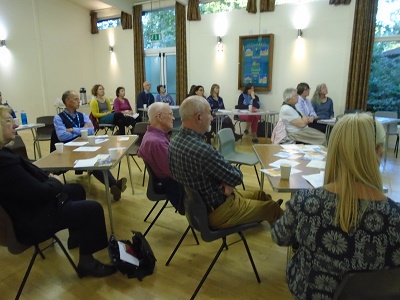 Listening to one of the presentations
There were the following presentations which included slides which can be viewed by following the link. There is also a link to a video for the last presentation.
The presentation was followed by discussion sessions and the points made by the three discussion groups are given below.
Group 1
The group noted that
Problems with contacting mental health teams out of hours (police find this a problem)
TalkingSpace Plus needs advertise their services more to the public.
TalkingSpace Plus should attend Thames Valley Police training days
Community transport an issue particularly for elderly and vulnerable people causing isolation.
Group 2
The group suggested that Healthy Abingdon (HA) could help with
Providing information about local support (some information on web site on Services and Associates page)
Providing dementia training in schools
Give help to people newly-diagnosed with dementia and those with mild cognitive impairment (MCI)
Give post natal support for both men as well as women
Give help to women with post natal depression
Group 3
The group noted that
It is important to publicise what is available
There are diverse nationalities in Abingdon
It is important to know who to refer people to if there is a problem/potential problem
We need to know our own neighbourhood better
Sometimes difficult to recognise vulnerable people, e.g. those with autism
More training needed about vulnerable people in shops and other places that deal with the public
Vital to involve the police in many issues
We need to involve the traditional charities more like WI and Rotary Clubs
Healthy Abingdon is reviewing these ideas and suggestions and deciding how best to deal with these.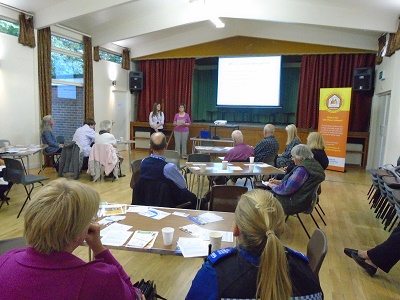 Safe Places presentation
---
Launch of Safe Places
Posted 26 July 2018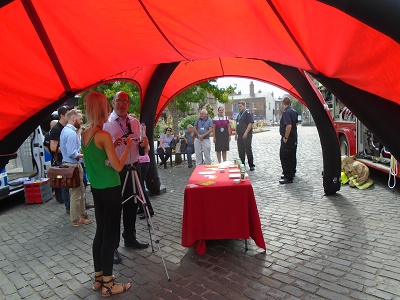 South and Vale District Council, Abingdon Fire Service and Community Police were present on Thursday 26 July to launch the Safe Spaces Scheme for Abingdon.
If someone is lost, anxious, confused or feels they are being bullied, abused or harrased while out, they can go to designated Safe Places.
Safe Places offer support to elderly people, people with dementia, those who may have physical or learning disabilities, people with mental health needs or someone who feels unwell.
For more information, go to safeplaces.org.uk.
---
News feature in Abingdon Herald
Posted 18 July 2018
"Dave Butterworth, founder of Healthy Abingdon, writes for Friends of Abingdon...
Civic pride is more than just about our history and buildings but it is also about the people of Abingdon today. In particular we should celebrate that we have more than 200 community and voluntary groups based in, or with major presence in, the town.
These groups cover a wide range of activities including sports, fitness, music, drama, history, nature, conservation, healthy eating, helping people with problems and much more. Their activities are aimed at children, the elderly, young people, those with chronic health problems or mental health and learning difficulties, and lonely people. You can find most of these groups listed on the town web site.
One common theme that unites these diverse groups is that they help to improve the health and wellbeing of the people of Abingdon.
Over the last year, another charitable group has been created called Healthy Abingdon whose aim is to bring these groups together to find ways of doing more by collaborating.
In addition, and very importantly, Healthy Abingdon brings together the community groups with the NHS and local government services so that by working together they should be able to achieve much more than working in isolation. Also we can see where the gaps are and find ways to fill them.
One thing that became clear from the start is that Abingdon is not doing as much as it should to make life easier for people with dementia. Indeed, some towns in Oxfordshire are doing much more than we are.
Healthy Abingdon has therefore brought a team of people together to develop ways to make the town more dementia friendly. The Alzheimer's Society is helping with this.
A main aim of the dementia initiative is to sign up as many people as possible as Dementia Friends. This includes those that work directly with the public such as café and shop staff, police and fire fighters.
Dementia Action week was on 21st to 27th of May and Healthy Abingdon used the Community Free Space in the shopping centre to raise awareness about dementia.
During the week various groups talked to the public about what they offer. These groups included The Alzheimer's Society, Dementia Oxfordshire, Soha Housing, Abingdon Court and Stowford House Care Homes, Daybreak, Oxfordshire Carers and Fiddle-Finger Quilts.
Another new initiative in Abingdon is to provide Safe Places for people who feel under threat or are just lost. This is mainly aimed at those with learning difficulties who, sadly, are sometimes the target of unprovoked abuse when out and about. This initiative is being led by the Oxfordshire Family Support Network in collaboration with South and Vale District Councils. A launch event is planned for Thursday 26th July.
So Abingdon is not just a pretty and historic town but one that takes pride in helping its people to experience happier, more-fulfilling and fun lives."
---
Dementia Action Week, 21 - 26 May
Posted 26 May 2018
Healthy Abingdon is working to make Abingdon more friendly towards those with dementia. We took the opportunity of Dementia Action Week to launch this initiative by setting ourselves up in the Community Free Space in Abingdon shopping centre.
During the week, different groups were present on different days/times
Also, some time was set aside for carers of those with dementia to come for a chat and have a cuppa. Both Stowford House and Abingdon Court Care Home brought some or their residents to join in the fun.
During the week, we talked to 68 passers-by about various aspects of dementia.
Scroll down to see some pictures of the week.
Abingdon Dementia Action Alliance
Dementia Action week is only the start for us. We have set up a Dementia Friends Steering Group which will be developing a number of ways of making the town more dementia friendly. This includes
Signing up Dementia Friends, including both members of the public and those who deal with the public like shop keepers, police and firefighters.

Encouraging shops and public events to be more friendly for those with dementia.
Contact us if you want to help. If you are a Dementia Friends Champion, we need your help in signing up more Dementia Friends in the town. Email healthyabingdon@aol.com or phone 01235 525955. Also, contact us if you want to register with the Alzheimer's Society as a Dementia Friend. We can provide an awareness session for you.
Pictures
| | |
| --- | --- |
| | |
| Our new logo for making Abingdon dementia friendly | Our Action Week poster was seen around the town. |
| | |
| --- | --- |
| | |
Team from Soha Housing

Stowford House encouraged people to talk to them by providing treats and entering names in a draw for the champagne
| | |
| --- | --- |
| | |
| Team from Abingdon Court with the Town Crier | Ian Giles entertained us with his playing |
---
Our third event - hearing about community groups
Posted 26 April 2018
| | |
| --- | --- |
| | |
| Individual discussions | Dance to Health presentation |
At our first event, it was suggested that we all need to hear what community groups provide to help with people's health and wellbeing. So, for this event we had presentations from community groups as well as providing the opportunity for other groups to talk directly with people. The four presentations were
Other groups present were
Shedoxford

Thames Valley Police

ARCh

ABCD Film Society

Kingfisher Canoe Club

More in Common

TalkingSpace Plus

Community Dental Service
---
Our second event - working with the NHS
Posted 14 December 2017
This event was attended by members of the community and providers of a range of NHS services including dental, mental, physiotherapy, community hospital and occupational therapy. the meeting was chaired by Ros Alstead of Oxford Health who also gave a presentation on the range of services NHS services available to the people of Abingdon. You can see the slides here.
Ros Alstead chairing event
Most of the meeting was taken up by table discussions followed by feedback and plenary discussion. A report on the discussion will be included in this news item soon.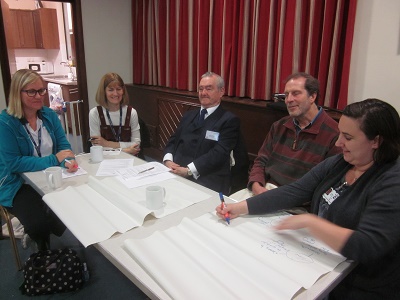 Discussion group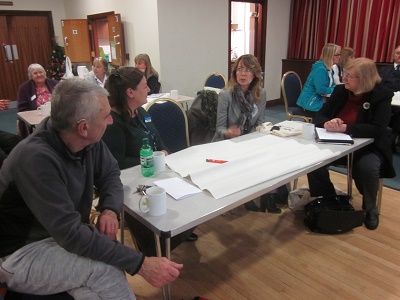 Discussion groups
---
Developments from first event - we are listening
Posted 12 November 2017
As can be seen in the next news item below, there were very many suggestions made at our first Healthy Abingdon event. We are keen to take on as many of these that fall within our remit and have so far
Set up a Facebook page with the help of Ashley Chapman of South and Vale District Councils.

Received a report giving statistics on health and wellbeing in Abingdon. This is with thanks to John Courouble of Oxfordshire County Council. This gives lots of useful information which will help us focus our ideas in future.

And we bring to your attention a report done in the past on the possible use of display units around the town to advertise events.

A suggestion was made that community groups wanted to have more opportunity to present themselves to the statutory bodies. This is causing us to make rethink how we run our future events.
Where we cannot deal things ourselves, we will pass them on to organisations who can.
---
Our first event, working with local government
Posted 12 October 2017
Our first event at Peachcroft in the early evening was well attended and extremely lively. The purpose of the meeting was to get community groups and others in Abingdon to talk to to representative of the Oxfordshire County Council, The Vale of White Horse District Council and the Town Council About what we we need from them to make Abingdon a healthier town.
Over thirty people attended the meeting and these included representatives from local government, the NHS and community groups. There were also members of the public present who represented themselves very effectively.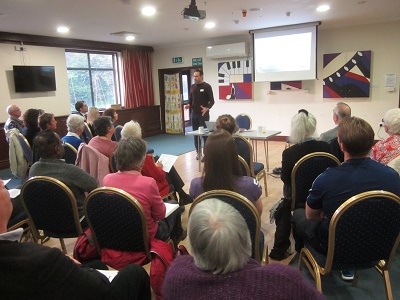 Ashley Chapman's presentation
The full programme of the event can be found here.
We had three main presentations from the County, District and Town Councils. The slide presentations from the County and District Councils can be viewed using the links below:
The third presentation was on what is provided by Abingdon Town Council and a note on this can be downloaded here.
The presentations generated much lively discussion and some of the main points raised were
A suggestion was made that we should look at what other towns have done similar to what we are trying in order to learn from them. We agreed that we need to continue to do this but had already looked at a number of other initiatives but had not found anything so far that was relevant to our situation.

It was suggested that we need to get more information on the particular needs in Abingdon in order to help prioritise our initiatives. This included finding detailed data specifically for Abingdon (rather than the Vale of White Horse) and even for particular Wards in the town

It was suggested that a comprehensive list of local community groups was needed rather than just the list of Healthy Abingdon Associates. However, Healthy Abingdon decided not to do this as four such excellent lists already existed and links to these are on the Service page of the web site.

It was suggested that community groups and charities should turn the tables on the statutory groups at some future meeting. By this, it was meant that community groups should be the presenters and statutory groups in the audience.

More thought needs to be given to ways of publicising events in the town. It was suggested that a hardcopy list of services and community groups would be of value for those who did not use computers. It was noted that it would be difficult and costly to keep this up to date and that, in any case, there were assistants in the Library who could help people use the computer.

Again, on publicity, it was suggested that we have a Facebook page. Whilst this point was accepted we don't currently have someone who is able to do this well.

Gardening was suggested as a healthy activity. It was noted that there were already groups like Stonehill Community Gardens and Incredible Edible Abingdon in, or on the boundary, of the town.

It was suggested that there are many benefits to be gained by the elderly working with children.

Related to the last point, there were many young families in the town who had moved from other places and had no family close by. Elderly neighbours could be very helpful in times of emergency and as someone with experience to talk to.

There was a need for more outdoor seating in the town to make it possible for the elderly or infirm to get out more because they could be sure of places to rest when tired. Seating at bus stops would also help these people because buses often ran late.

Singing was recognised as very therapeutic and there were a number of such groups. However, there was a need for more groups that encouraged men.

People were urged to get more involved with the work of the NHS Foundation Trusts through their Members, Governors and Peer Review schemes.

There was an urgent need for a large, indoor community space near the centre of the town

Community groups run by busy volunteers found it hard to know of and keep track of what grants were available and what the deadlines were. It was suggested that OCVA could help as could Grant Hayward.
If you were at the event and think some other important point was made. please let us know and we can add it to the list.
| | |
| --- | --- |
| | |
| Audience | Networking |
---
Our birth!
Posted 4 August 2017
The concept arose from a series of discussions starting in March 2016 between Ros Alstead and Dave Butterworth which were facilitated by a project called Leading Together aimed at bringing health professionals and lay people together to take initiatives to improve health. Ros is a Director of Oxford Health NHS Foundation Trust which runs the Abingdon Community Hospital and teams in the town concerned with mental and physical health and wellbeing. At the time Dave was the OCVA Community Ambassador for Abingdon and was therefore working with voluntary and community Groups in the town. From our complementary knowledge of the NHS and community groups, we wanted to find ways that the NHS and these groups could work better together improve health and wellbeing in the town.
| | |
| --- | --- |
| | |
| Ros Alstead | Dave Butterworth |
We held a meeting of of interested parties at the end of June 2016 to sound out peoples' views and consider what sort of activities we might engage in. Following this meeting, a launch event was held in September. At this stage, the idea was that Healthy Abingdon should be a joint activity between Oxford Health and OCVA with OCVA managing the project. However, this did not fit in well with OCVA's objects and their contract with Oxfordshire County Council. We therefore found it necessary to set up as an independent charity which, unfortunately, took some time.
| | |
| --- | --- |
| | |
| June discussion meeting | Stuart Bell, Oxford Health Chief Executive speaking at our September launch event |
We eventually became a registered charity at the end of March 2017 (charity number 1172245). Monica Lovatt joined Ros and Dave as the the founding trustees. Monica is an Abingdon Town Councillor (ex Mayor) and the vice chair of the Vale of White Horse District Council. As an ex nurse, she has a strong interest in health and sits on a number of key Oxfordshire health committees.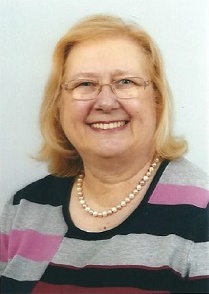 Monica Lovatt
We have until now been working on all the practical details of setting up charity such as opening a bank account, launching a web site and getting our key policies and procedure in place. We have also been signing up charitable groups as Associates to work with us on helping to make the people of Abingdon as healthy as possible. We are planning to have our first meeting of Associates on September 2017.