News from Healthy Abingdon

Working together to improve health and wellbeing in Abingdon
Clubs and Societies Day, March 2023
Posted 20 March 2023
Abingdon Town Council were able to run this event again this year after a break due to COVID 19. Healthy Abingdon were pleased to attend along with over 30 other groups. We used the day mainly to tell people that we hope to start a Junior Parkrun in South Abingdon and to seek volunteers to help out at these weekly runs. Find out more.
We also asked people what they thought would help people in Abingdon become more healthy. Some suggestions were
Sing and play music
Have a greater variety of local shops
Take up dancing especially Scottish country dancing
Encourage healthy eating including less meat and a wide variety of vegetables
Take care of wild animals and the environment
Discourage fast food outlets

Our stand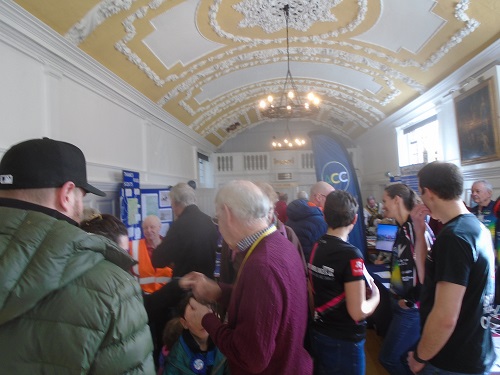 Things got very busy at times
---
Policy consultation for the NHS in our area
The Buckinghamshire Oxfordshire and Berkshire West Integrated Care Partnership (BOB ICP) of the NHS is developing a strategy to develop the local health and care system and reduce inequality. The partnership is still seeking feedback from wider partners and from people who live or work in the BOB area.
To have your say please visit: https://yourvoicebob-icb.uk.engagementhq.com/icp-strategy-engagement
You can also take part in one of our online meetings:
Monday 23 January @ 6.30pm – 7.30pm
Thursday 26 January @ 5pm – 6pm
Friday 27 January @ 11am – 12 noon
We will post the joining links on https://yourvoicebob-icb.uk.engagementhq.com/icp-strategy-engagement
The ICP wants to work with local people and communities to set the direction (principles) of the strategy and agree a common set of priorities for the partnership, linking with plans already in place, to meet local needs while taking pressure off services.
---
Warm spaces
A number of churches in Abingdon are collaborating to provide warm spaces where people can meet, stay warm and obtain refreshments. These are
St Edmonds Catholic Church: in the parish centre on Oxford Road, Tuesdays from 11am to 3pm.
Peachcroft Christian Centre: at the Peachcroft Shopping Centre, Wednesdays from noon to 4pm.
Salvation Army: West St Helens Street, Thursdays, 12:30 to 4:30pm.
Baptist Church: 35 Ock Street, Fridays, 2 to 4:30pm.
Abingdon Library: The Charter Abingdon, OX14 3LY
Abingdon Healthfest 2022, Saturday 3 September
Posted 29 September 2022

Following the success of last year's event, we decided to run the event again this year and to make it bigger and better. We took over Abingdon Market Place from 10am to 2pm to set up 19 gazebos to enable 23 groups concerned with heath and wellbeing to engage with the passers by.
The event was opened by the Town Crier and the Mayor attend to talk to the stallholders and public.
The following groups were there to tell you what they do:
The event was sponsored by the Cumber Family Charitable Trust and Penlon.
You can see some pictures of the event below and more on the Abingdon Blog.
| | |
| --- | --- |
| | |
| View from the top of County Hall | The Mayor being introduced by the Town Cryer. |
| | |
| The Healthy Abingdon stall | General view of the event |
---
ZOOM meeting on Wednesday 13 April on Support for carers in Abingdon
Posted 30 September 2022
There are about 5000 unpaid carers in Abingdon and these are estimated to save the UK economy £96 million a year yet many receive little support. However, there are a number organisations in Oxfordshire that provide a range of help and support for those with caring responsibilities in Abingdon. We are brought some of these together to talk to us about what help they provide. This was followed by questions and discussion.
The presentations were
Carers Oxfordshire (which includes Rethink Mental Health): Kay Frances, Head of Carers Support Services in Oxfordshire
Autism Family Support: Becky Loveless, Family Support Team Leader
Fit 2 Care: Sam Bennet, Chair
You can find more about these groups below.
Carers Oxfordshire
Caring is such an important part of life. No matter what race, religion or society, caring will cross all our paths at some point.
Carers Oxfordshire is a partnership between Action for Carers Oxfordshire and Rething Mental Illness, both independent charities. Action for Carers Oxfordshire is a local charity whose sole purpose is to support the unpaid carers of Oxfordshire, Rethink Mental Illness is a national charity Working to improve the lives of people and severely affected by mental illness. Carers Oxfordshire is jointly commissioned by Heath and Social Care to provide the primary support service to carers in Oxfordshire.
Web site: https://www.carersoxfordshire.org.uk/
Phone: 01235 424715
Email: carersinfo@carersoxfordshire.org.uk
Autism Family Support..
...provides support, advice, and fun for families. This includes
Information and Advice for parents/carers, includes advice surgeries, telephone support, email, e-bulletins, and support groups.
Youth Groups for 8 – 21 year olds autistic people without a learning disability.
Summer and Easter Holiday Activities fun community based activities
Training for parents, young people, and professionals.
Autism Awareness promoting awareness, and better services for families.
Consultation and Training for professionals.
Web site: https://www.afso.org.uk/
Phone: 01235 754700
Email: info@afso.org.uk
Fit 2 Care
Fit 2 Care is a small community group run by volunteer parent and family carers. They host affordable fitness classes in Abingdon for family and parent carers. Their aim is to improve the physical and mental health of carers through regular exercise. All classes are suitable for all fitness levels and can accommodate any carer over the age of 18.
Classes are run during school term time sometimes during the day and sometimes during the evening. Spaces are limited and the term of classes must be booked and paid for in advance. All equipment is provided to create as few barriers as possible for carers to access these classes.
Web site: https://fit2care.org/
Email: enquiries@fit2care.org
---
Zoom meeting on 30 November 2021 to discuss the future of Healthy Abingdon
Posted 8 December 2021
Healthy Abingdon is approaching its 5th year so trustees felt now was a good time to review what we have been doing and think about how we might change for the better. The meeting was therefore to get the views of Healthy Abingdon Associates and other interested parties. We had a lively and informative discussion as summarised here.
The meeting was started with a short slide show on what we have done so far. The slides can be viewed here. This was followed by a general discussion on the future.
Considerable concern was raised about traffic in Abingdon and the level of air pollution in the centre. This led to a full discussion of transport and travel in the town. While there are advantages to reducing cars in the centre, many people needed to use their car because they travel from a village without buses, they do not cycle or cannot walk very far. Some concern was expressed about the temporary shutdown of the multi-story car park which seems could be permanent. It was noted that without another river crossing, more cars then necessary will be channelled through the town. While a 20mph speed limit in the centre may help pedestrians, it was unclear how it would affect pollution.
It was noted that a review was currently underway of the junction at the top end of Bridge Street particularly to make the crossing more friendly for pedestrians and cyclists. Healthy Abingdon stressed that the needs of wheelchair users should also to be considered.
It was also noted that a healthy street survey for Abingdon was currently underway and that we should engage with this.
In terms of communication with general public, I monthly or bi-monthly newsletter was suggested in addition to better use of social media.
In terms of what groups of health issues, we need to consider helping, it was suggested we might ask GPs. Given that GPs are overwhelmed at the moment, it was thought that contacting social prescribers would be more useful.
In terms of engaging with other groups with health needs, it was noted that we had successfully set up Dementia Friendly Abingdon but have been unsuccessful in setting up a group for people with diabetes. An offer of help on this was made by one of the attendees.
A suggestion was also made that we might do something for those with learning difficulties although it was thought the My Life My Choice still had a group in the town.
In view of the success of Abingdon Healhfest on 4 September, we have booked the marked place again for 3 September 2022 for the next Healthfest. It was suggested that we make this a week event with the groups in Abingdon inviting people to attend 'taster sessions' earlier in the week. These would be badged as part of Healthfest 2022 with Healthy Abingdon providing a timetable for this and publicising in places like 'Round and About'.
---
Abingdon Healthfest 2021, Saturday 4 September
We had 14 gazebos in Abingdon Market Place covering many areas of health and well-being including a few of the very many community groups in the town that have fun ways to stimulate your mind and body. There were also be a number of statutory health services represented. A fire engine parked up on the square for part of the time to attract children and interest them in cycling training.
We are grateful to Penlon for sponsoring the event and for further support ffrom Abingdon Town Council.
You can see a report on the event with pictures on the Abingdon Blog.
The event was opened by the Town Crier and the Mayor attended to talk talk to the stallholders and public.
We are planning to run the event again next your on 3 September.
The following groups exhibited:
Sutton Courtenay Nordic Walking and other walking groups.
Social Prescribing ( to meet the social prescribers for the Abingdon GP surgeries)
Dementia Friendly Abingdon, Facebook page
Cycling groups including AbiBike, AbingdonFreeWheeling, SusTrans and Oxfordshire County Council cycle training. A Fire Engine from Abingdon Fire Station was present for part of the time to attract children to the work they do on children's cycle safety.
Shedoxford, community workshop.
Talking Space Plus (mental health)
Some pictures of the event are shown below and you can find more on the Abingdon Blog.
| | |
| --- | --- |
| | |
| Town crier opening event | General view of market |
| | |
| Fire engine to promote cycle training for children | General view |
---
Your local hospital needs your support
The Abingdon Community Hospital League of Friends is a local charity run by a small group of volunteers who raise funds for extra equipment for all the departments in the hospital, to benefit both patients and staff.
Over many years the committee of ACHLOF has organised events and received donations from grateful relatives, patients and other sources to help boost the funds. Unlike other hospitals, the ACHLOF has never been involved with running the café at the hospital.
In 1998, a new committee took over the fund raising from an ageing committee who retired en bloc. Now that this "new committee" has reached retiring age we are looking for younger volunteers to work with us to continue the good work that the charity has achieved over the years. Now more than ever in these difficult times our local hospital needs the support of the community.
Before the pandemic, newsletters were delivered during the year to inform members of events being organised and the committee hope to restart to this in the future.
If you live in Abingdon you will probably have used or know someone who has been helped at the hospital. If you would like to support the hospital and help the charity, you are welcome to become a member for a subscription of £5.00 a year. Please contact Phil Selby, Email: achlof1@gmail.com for more details.
Departments that benefit from our fund raising
District Nurses
Hospital @ Home
Minor Injuries
Out of Hours GP Service (Part of Urgent Care)
MSK Physiotherapy
X-Ray
Children's Therapies
EMU
Urgent Care
Wards 1 and 2
Speech and Language Therapy
Adults and Children
Children's Physio/Occupational Therapy
Podiatry
Outpatients
Maternity
Dental Continuing Care
School Nurses
Single Point of Access
Mental Health Team – Adults and Children
Physical Disability Service
---
Sleep Well to Keep Well
Thursday 3rd June, 7-8pm
Zoom talk led by sleep researcher, David Ray.
He told us all about the importance of sleep answering many questions including:
What are the effects of poor sleep, lack of sleep and altered sleep patterns?
Can shift work or night-working affect the body's sleep system?
What are the lesser-known effects of lack of sleep?
How sleep patterns from infancy, through adolescence and then into later life.
How and why do these changes take place?
How to get a better night's sleep?
---
Play:Full encourages children to eat well
Posted 2 June 2021
Healthy Abingdon teamed up with Good Food Oxford this half term to put together a food-based cooking activity for a local primary school. This project was the first time the Play:Full approach to combining play and food has been used in Abingdon.
Play:Full activities
encourage children and parents/carers to get involved with cooking and preparing food together;

use basic and minimally processed ingredients that include fruit/vegetables; and

encourage children to try new tastes.
Healthy Abingdon put together 197 bags of healthy ingredients with associated recipes and delivered them to the local primary school for these to be passed on to the children for half term. The recipes were for store-cupboard Bolognese and tomato soup.
| | |
| --- | --- |
| | |
| Packed bags | Soup bag contents |
If you would like to find out more about the Play:Full initiative, please contact Healthy Abingdon (healthyabingdon@aol.com).
---
Virtual event on the health benefits of walking, Tuesday 23 March 2021
Posted 5 April 2021
This lively and informative zoom meeting was attended by 25 people.
The speakers were
Viv Boorman - Abingdon Health Walks. Viv give an overview of Abingdon's Health Walks; what they are and how they work, as well as describing a little about what participants particularly enjoy about this local group. (See slides.)

Steve Ellis - British Nordic Walking Association. Steve told us about the history of this increasingly popular activity, how it differs from basic walking and what additional benefits it can provide. (See slides. Also see slides on local group in Sutton Courtney.)

Frankie Chesterton - Chartered Physiotherapist. Frankie described the lesser-known physical benefits of these easy, cheap and accessible activities. There is much more to it than just stretching your legs. (See slides.)
---
Virtual event on living well with diabetes. Wednesday, 20th of January, 2021
Posted 22 March 2021
We started the meeting by premiering the video 'Living well with diabetes in Abingdon' prepared by students of the Digital Media Production at Oxford Brookes University. The three minutes film presents different ways to keep moving in our beautiful town. Special thanks go to Abingdon Green Gym featuring in the video. Thank you to the production team!
Next, we heard from two Health Promotion Practitioners Natnaree Kaewhin and Mary Wilson from Here for Health - a free service at the Oxford University Hospitals NHS Foundation Trust, providing advice on lifestyle changes (e.g. eating more healthily, becoming more active) to improve health and wellbeing including those with diabetes. After you contact them, you can expect an initial discussion about what are your needs and what might work for you, followed by a lifestyle consultation (currently video or phone call) and a follow up consultation. Email: hereforhealth@ouh.nhs.uk or call: 01865 221429: https://www.ouh.nhs.uk/patient-guide/here-for-health/
We then had a presentation from Jane Salmon. Jane co-leads the Community Diabetes Service at the Oxford Health NHS Foundation Trust offering support to people living with type 2 diabetes. Jane focused on emphasising the benefits of participating in free courses they offer to help people with type 2 diabetes to manage their diabetes; it is relevant to those newly diagnosed and those who have been living with diabetes for some time now. The sessions are currently online so this may be convenient to many. The team is extremely supportive and waiting to hear from you so email or call and book yourself in! Email: diabetes.education@nhs.net Call: 01869 60409: https://www.oxfordhealth.nhs.uk/community.../about-us-3/
Next, we heard from Ashley Chapman talking about Go Active Get Healthy Diabetes - local activities that everyone can take part in. Did you know that physical activity can both help reduce your risk of diabetes and for people with diabetes, physical activity can also help you manage this condition? Find out more on the Go Active Get Healthy website offering workbooks and infographics with tips to help you keep active. Complete the diabetes enquiry form to receive free motivational phone support and advice from one of their friendly team members. If you live close to the Long Furlong Medical Centre, you are welcomed to the 'walking for health' walks. To contact Ashley, email ashley.chapman@southandvale.gov.uk or call 07717 714477
Our final guest was Mr Abdul Rais who kindly joined us to talk about his experience of being involved with a local Diabetes UK group in Milton Keynes. This was an inspirational talk of someone who is living with diabetes and supports those who do as well. We heard about what are the benefits of having a local diabetes group (including peer support and regular events on topics relevant to the local community). https://miltonkeynes.diabetesukgroup.org/
We finished the event with an update from Healthy Abingdon on diabetes-related initiatives we have been leading on. If you would like to get involved in any - please let us know. We produced the "Diabetes Community Resource Guide for Abingdon" that needs updating and we established the Facebook Healthy Abingdon Diabetes Group that would benefit from strong local leadership. Would you like more community diabetes-focused events? Anything we can do to help to stay well? healthyabingdon@aol.com
---
Abingdon-based ABCD Film Society has now re-launched itself in an online format
Posted 20 November 2020
Anyone can join - there is no subscription
The Society plans to show one film each month, with a few exceptions. Encouraged by the response to their first online film, Bringing Up Baby, the November film is Michael Haneke's Happy End (France, 2017). At this point in the year, with the continuing Covid-19 restrictions in force, they are planning for the next film to be early in January 2021.
Please check their newsletter for more information.
At present they are suggesting film titles available on BBC iPlayer, which is free to any BBC licence holder. You can watch the film at a time convenient to you: then, if you would like to join in a friendly discussion about the film, the Sociaty will be hosting a Zoom session at 7:30pm on the last Thursday of the month (this month, November 26th).
A descriptive Programme Note will be attached to the Newsletter notification of the suggested film and will contain the link to the related Zoom discussion.
---
Abingdon Community Hospital
Posted 2 September 2020
We love our community hospital in Abingdon. Now Oxford Health NHS Foundation Trust, who runs the hospital, has made a short film about it taking in Abbey Ward, Oxfordshire Stroke Rehabilitation Unit and the Minor Injuries Unit among other services.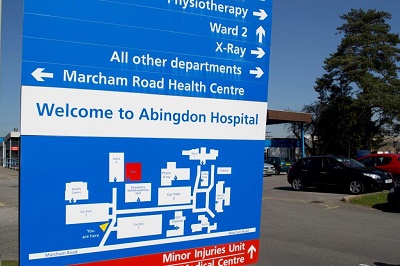 It will have its premier on the Virtual HealthFest 2020 but you can get a priority access to the HealthFest portal by becoming a Member of Oxford Health.
The Membership is free and carries no obligations but you will receive a monthly newsletter and invitations to members only events. Show you support to Abingdon Community Hospital.
Find out more about Membership and how to join here.
---
Photography competition
Posted 27 August 2020
We ran a photographic competition during lockdown for the best photograph of of people enjoying exercise in Abingdon. The winner was Andrea of Yoga Energy.
This image below was taken in Albert Park during an outdoor yoga class. The students have been joining virtual classes throughout lockdown, and since easing, joined a class in the park. The class provides the opportunity to stay connected as a community, to build flexibility and strength, and to help with staying calm during these ever-changing times.
Normally they practice in community spaces including Northcourt Centre, the Guildhall and McTImoney College
Copyright Yoga Energy 2020
---
Improving the accessibility of Abingdon town centre
Posted 12 June, 2020
Improving the accessibility of Abingdon town centre In March 2019 we asked the visitors to the Clubs and Societies Day to write down their ideas on what they thought we should do to make the town healthier. One of the ideas was to "drop pavement at top of Bridget Street to make it wheelchair friendly" and we decided to follow on this idea.
We would like our town to be enjoyable to move around. But there are issues with accessibility that make it difficult for pedestrians.
We involved the Student Consultancy team from the University of Oxford to investigate accessibility in Abingdon's town centre, in particular the possibility of dropping two kerbs at the top of Bridge Street to make it wheelchair accessible.
The team came to our town on the 2nd of November 2019 and talked with the Abingdon's residents visiting Town's centre, especially pedestrians with reduced mobility, about how accessible it is. The startling finding was that less mobile residents have severe difficulties navigating the town centre, even to the extent that some avoid coming to the town entirely.
The lack of dropped kerbs, the sloped pavements, the slanted pavements, narrow pavements, sticking tiles, and the cobbled areas cause particular difficulties. The mentioned places included: lack of wheelchair friendly crossing at top of Bridget Street; lack of wheelchair friendly crossing on High Street in the Town's Square area, and general difficulties moving around the precinct around the Co-op, multi-storey car park, the top of the shopping precinct, and the area near the library.
Kerbs not dropped at the top
of Bridge Street
Alternative dropped kerbs nearby at a
frightening place to cross
The team approached the Oxfordshire County and Vale of White Horse Councils to make a case for addressing the top of Bridget Street crossing but was informed that it would not be possible to drop the kerbs at the top of Bridge Street due to the narrowness of the road and the lack of a sufficient wide pedestrian island.
You can find the full report here.
What next?
We had a feedback that having an annotated map of Abingdon Town's centre with dropped kerbs in order to allow residents and visitors to plan their journeys more safely and easily would be welcomed. Any takers?
Thank you to the students (Lucy Perret-Johnson, Emily Matsagoura and Xue Chen) from the Student Consultancy team (University of Oxford)
---
Children's art competition
Posted 17 May 2020
In collaboration with Mostly Books, we decided to run an arts competition to interest and challenge children during lockdown. We set them the task of making a picture which showed people engaging in healthy activities. We also asked them to relate the picture to Abingdon in some way by including some feature of Abingdon or by including the Healthy Abingdon logo. We had two age categories; 5 to 10 and 11 to 15. The prizes where vouchers to spend in Mostly Books.
We received lots of jolly pictures, may of which showed great imagination. All the pictures were really heartwarming and made us think of happier times when we were not in lockdown.
The prize for for the older age range went to Felicity, age 11.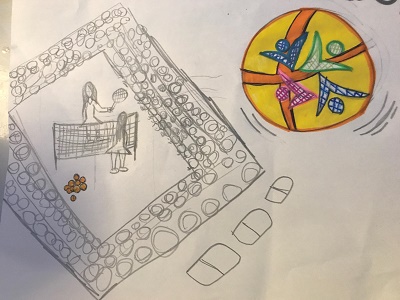 Imaginative view of tennis with Healthy Abingdon branded tennis ball high in the air, by Felicity.
The first prize in the younger group went to Hollie, age 9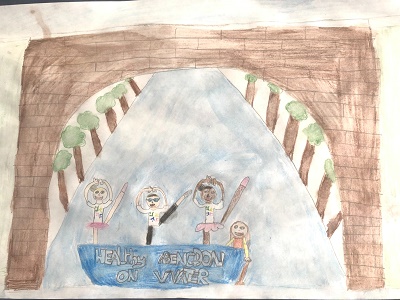 Hollie showed many features of both Abingdon and health activities.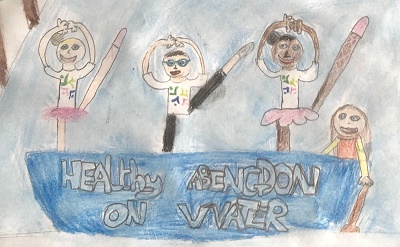 This detail of Hollie's pictures shows the ethnic mix and Healthy Abingdon T-shirts.
We had so many good entries in this younger category that we decided to give a runner-up prize which went to the youngest entry which was from Thomas age 6.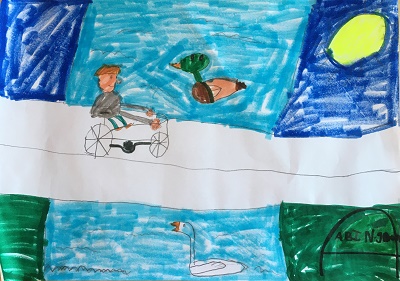 Thomas's colourful and happy picture to warm our hearts at this difficult time
We thank the winners, and all the others who sent a picture, for their creative ideas to inspire us all in Abingdon. We also thank Mostly Books for their collaboration and for contributing one of the prizes.
---
How Dementia Friendly Abingdon (DFA) is dealing with lockdown
From Susan Williams, Secretary of Dementia Friendly Abingdon
Posted 6 May 2020
As for many groups, our first actions were cancellations which included of the Friday morning coffee group who meet at 35 Ock Street and all our plans for Alzheimer's Society Dementia Action Week in May.
The coffee group, people with mild cognitive impairment or dementia and their carers/supporters plus DFA volunteers, maintain their spirits with regular, non-face to face contact by email, telephone and doorstep chats whilst out for their permitted exercise - always at a distance!
The Alzheimer's Society reports that top of their list of things people with dementia have told them is Covid 19 has exacerbated the challenges faced by people living with dementia. The DFA steering group leads have maintained engagement with the Alzheimer's Society Dementia Friendly Communities Team enabling them to pass on relevant information via email to DFA Friends and the DFA Facebook page. The most important sources of information and support are the Alzheimer's Society website and their Dementia Connect support line Tel: 0333 150 3456.
As for everyone, DFA's face to face work, in particular Dementia Information sessions, is on hold. But we are investigating ways of providing them online and will be hoping to start them up again shortly.
To join the DFA 'Friends' mailing list or to enquire about a Dementia Information Session please email dementiafriendlyabingdon@gmail.com.
---
How TeaBooks is dealing with lockdown
Posted 1 May 2020
From Amanda Ferguson TeaBooks Manager
Although we had to suspend all our TeaBooks meetings in early March, we quickly realised that, through our established groups and volunteer network, we had a ready made support system for some of Oxfordshire's most vulnerable older people.
Many of our 150 or so group members live alone and we knew they would be finding the restrictions hard and would be missing their book chats. We have therefore put together a fortnightly newsletter, with lots of ideas about what's on offer during lockdown to keep their brains and hands busy!
As far as possible, we have tried to focus on activities that don't need internet access as we know many of our members don't use the internet. The newsletter is emailed to our 20 volunteers who then email or post it on their group, or use it as a prompt to phone their members.
However, one of our groups has managed a Zoom TeaBooks meeting, and our Abingdon volunteer in talking to her members about such a possibility.
Contact amanda.ferguson@bookfeast.net for more information.
---
More stories of how our Associates are adapting to the lockdown
Posted 22 April 2020
From Jane Rendel of ARCh (Assisted Reading for Children)
We have certainly had to adapt. Now that schools are closed, many of our volunteers are finding other ways to help the community. Here is a picture of David who, unable to go into school for his usual twice weekly reading sessions, has been making laundry bags for NHS.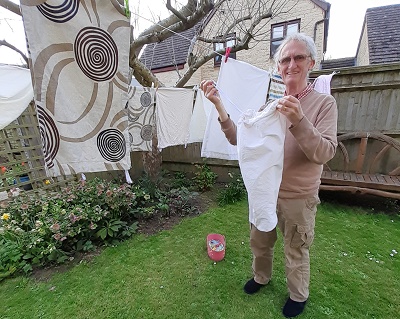 David with his finished laundry bags
We are keeping in regular contact with all our 300 volunteers, especially those who live alone or are having to shield. We are providing information, resources and trainings online and quizzes to keep them engaged and occupied and new ideas are continuing to evolve.
We are making good use of our Facebook, Twitter and our Youtube accounts and posting useful information for volunteers, schools and parents/carers home schooling their children.
All our volunteers are missing their ARCh sessions and the children they support very much - it is a very important part of their lives. There are many health benefits of volunteering of course and especially in sharing the joy of reading with young children.
To try to address this somewhat we are now piloting a letter writing project between volunteers and children via their schools.
We are also looking at ways to support the 120 primary schools we work with whilst they are only partly open.
We know that our volunteers will be needed more than ever once schools reopen. There is great concern that children, particularly the most disadvantaged, will have regressed. So we will need to recruit more volunteers than ever. Abingdon is a particular priority area for us so if you could help us recruit that would be great. We are still operating, working from home, and prospective volunteers can download the application from our website and email it to info@archoxfordshire.org.uk.
From Laurence Nagy of NAGY Yoga
I kept running classes at the Guildhall in Abingdon until the 11th of March.
By the 15th of March I decided to offer students the option of attending the class online. I was still practicing at the Guildhall with three or four students.
I stopped running classes physically on the 18th of March and from the 23rd of March, I was teaching from home and most of my students were following my instructions on line.
A friend/colleague recommended using Zoom where up to 100 people can be connected at the same time.
It has worked well so far, with some hiccups at the beginning, until everyone had made space at home for practice and until video and audio functions were in place.
I'm very grateful to my Abingdon and Clifton Hampden students for their support. I think we all miss the face to face interaction and going for coffee in town after the class , but I feel relieved both to save my job and to help people in keeping their Yoga routine.
Yoga focuses on connecting mind and body through breathing. I have been asked to bring more breathing techniques into our weekly practice. Connecting to the breath helps people with anxiety and also gives more attention to the lungs, which can be so badly attacked by the present virus.
We are lucky to live near places where we can still walk and run in the fresh air. Yoga is complementary to outdoor activities, but it can also be an interesting substitute to outdoor activities when you have to stay in isolation.
Seeing each other online is not ideal and will never replace our live practice. But it is amazing to be able to find ourselves together for an hour or so and share something we find is helping us in a way cope with the present.
---
What Healthy Abingdon Associates are doing during Coronavirus lockdown
Posted 21 April 2020
Healthy Abingdon is all about social interaction which is put to the test during this period of lockdown. However, some of our associates are finding ways to keep going and help people as we describe below. We will add to this as Associates contact us with their news. We thank them all for the great work they do.
Abingdon Fencing Club
The Abingdon Fencing Club are running a virtual 30 min warm-up fitness and exercise session via Zoom each Thursday at 8:30pm. This will help keep their members moving and ready for when they can return back to regular club meetings.
Archway Foundation
The Archway Foundation has not been able to continue holding its supportive social groups or arrange the usual face to face visits within its Individual Support Service. They have therefore re-configured their services to provide telephone support instead of the face to face contact to over 200 people.
These welfare calls often highlight additional needs so they are linking people with community hubs and services to address the practical issues of food and prescription delivery and / or additional emotional support through referrals to organisations as appropriate.
As the majority of their 'Friends' (their name for service users) and some volunteers are not on email or have internet access, they are producing and posting a bi-monthly newsletter to help promote a sense of connectedness. In addition to providing information and articles of interest, word searches/quizzes etc they are inviting contributions from recipients, asking them to say what they are doing during the lockdown, send in poems, stories, paintings etc that can be included in future editions.
Go Active
Go Active have produced what they call an infographic which gives lots of useful advice on keeping fit along with contacts for organisations that can help you. They also have a list of people who are providing online online classes on healthy activities.
---
Coronavirus
Posted 23 March 2018
Healthy Abingdon wishes the people of Abingdon all the best and good health during this difficult time. We have, of course, cancelled all our planned events for the foreseeable future. We have also created a web page providing useful information on where to get help and advice on Coronavirus. Please send us any additional information you may have.
---
The wonder of food - challenging poor diet
Event held on the 11 February 2020
Posted 18 February 2020
The meeting started with an interesting presentation by Jennifer Slatter of Oxfordshire Community Dental Service. She told us that the specialist dental teams work with people who find it hard to access main-stream dental services, whether that be because of severe mobility issues or extreme phobias.
One of the main issues they encounter is preventable tooth-decay in very young children. Around 20% of children under 5 have significant tooth decay, and too many of these cases end up with multiple extractions under general anaesthetic. This is often a result of too many sugary drinks, particularly fizzy ones which are often also acidic. Tap water or milk remain the best drinks particularly between-meals. Find out more from the NHS web site.
Next, Richard Kennet from SOFEA (South Oxfordshire Food & Education Academy), based in Didcot, told us about the work that they do with young people for whom the standard school system is not working. But they find that, with encouragement, these young people work really well on SOFEA's main activity of re-distributing of food over-ordered by supermarkets (and there is more of it than you might imagine!). This enables practical work placements to be given to young people so that they gain skills whilst making a positive contribution to society. This feeling of that their work is useful and valued gives a huge boost to the self-esteem and confidence of these young people.
The meeting was reminded that food is a basic need; if people are food insecure, it is very hard to address other issues. It was with this in mind that the Didcot Larder was born: a social enterprise that makes affordable fresh food available to the local community. Do watch the inspiring videos on the SOFEA website. It is hoped that an Abingdon Larder will be established in the near future.
See the inspiring videos on the SOFEA web site and check out their Facebook page.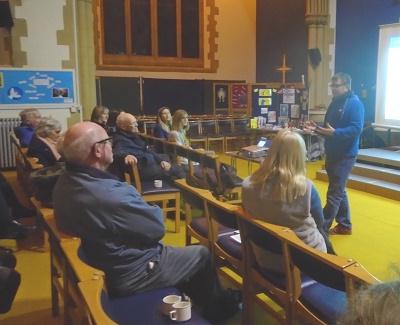 Richard's presentation
It was left to Abi Barclay-Watt, a local Registered Nutritionist, to focus on the significant impact that poor nutrition can have on long-term healthy outcomes, and how our digestive system (and the food we consume) is now recognised as having a role in emotional well-being as well as physical health.
Sweetened drinks were discussed - it was explained that liquid calories aren't registered by the body with a 'full' feeling which explains why it is so easy to consume too much energy from drinks. It is also interesting to think that the term 'malnutrition' covers both too much energy and too little of the important micro-nutrients (vitamins & minerals) that help us to stay healthy. See the NHS fact sheet.
See Abi's slides here.
---
Working towards a happy and healthy Community
Event held on the 21 November
Posted 27 November 2019
A new system of Primary Care Networks (PCNs) is being set up across the country. This involves GP practices in communities with a population of 30,000 to 50,000 working more closely to together. This enables them to provide more services to their patients by having additional shared specialist staff. Also, by working with community groups, they are able to help people stay well or recover faster from illness or injury. A key purpose is to improve health and wellbeing in the community especially in the more deprived areas.
This event was so that we could hear about the new PCN system and how it was being implemented in Abingdon. It was also so that the NHS could get feedback from community groups and and the public on what was needed in the town and how we all might help. You can find the event programme here.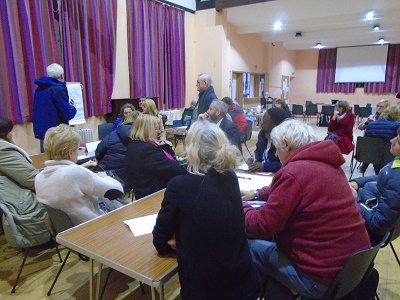 Discussion session feedback
The meeting was attended by nearly 40 people covering a wide range if interests. This included members of the public and representatives from Patient Participation Groups, local government, NHS Foundation Trusts and community groups. It was very ably chaired by Ros Alstead.
Fergus Campbell of the Oxfordshire Clinical Commissioning Group gave a general presentation on the PCNs and his slide presentation can be found here. The key points from his presentation were
19 Primary Care Networks have been set up across Oxfordshire with with two covering Abingdon.

This is a very new arrangement so it is early days but good progress has been made in a short time.

There is a five year plan with details of the new services already decided upon for the first three years.

Additional money for this is being provided by central government

Only 10% of a community's health and wellbeing is linked to access to health care which is why a broad community approach is needed.
The two PCNs for Abingon are
Abingdon and District (Population 30,043)

Berinsfield Health Centre
Clifton Hampden Surgery
Marcham Road Health Centre
Long Furlong MC

Abingdon Central (Population 33,657)

Abingdon Surgery
Malthouse Surgery
In the first three years, the plan for additional services/roles are
2019/20: Clinical Pharmacist and Social Prescriber

2020/21: Physician Associates and first contact Physiotherapists

2021/22: Community Paramedic.
We next heard from Sanjay Trivedi, the Clinical Director of the Abingdon and District PCN, along with Charlotte Sellers, a GP Registrar from Marcham Road Health Centre who is working closely with Sanjay in setting up the PCN. Some of the key points from their presentations were
A survey of GP practices in their PCN showed up a range of wider issues than just medical including, low income, loneliness, dementia care and drug/alcohol problems.

GPs find it difficult to address these problems other than providing understanding which shows up the need for Social Prescribers who are able to address the non clinical problems.

There are some seriously deprived areas in the Abingdon area which needed a more community-led approach to help them.

There are a wide range of community groups operating in Abingdon that are already doing a good job.

We can learn from other parts of the country where the community/PCN approach has been tried over a number of years.

The Abingdon and District PCN has taken on two part-time Social Prescribers in a job-share arrangement. These are Emma Welch and Emma Backlund.
Finally we heard some heart-warming stories from the two Emmas about how they were able to help individuals by looking at the persons needs in the round. The key point that came across was that one problem like unimployment could lead to other problems like lack of self esteem, loneliness and weight gain which then would conspire to worsen the original problem leading to a downhill spiral. The Social Prescriber could intervene to break this cycle by addressing most or all of the issues.
Overall, we were all impressed by the excitement and enthusiasm displayed by the whole PCN team.
We then broke up into four discussion groups to ponder what we had heard and to add our own thoughts and suggestions. These points were fed back to the whole meeting in a plenary session. The discussion was lively and the points raised included
Social prescribing type services were also conducted by Mind and Age UK so there was an opportunity for wider collaboration in this area.

The public needs to have a voice in these new developments (it was noted later that some places to do this were through the Membership schemes run by the Foundation Trusts and the Patient Participation Groups run by GP surgeries).

Some people feel vulnerable when carers come into their homes.

Job Centres have an important role to play.

Loneliness is not just limited to the elderly but includes young people and young mums.

We perhaps need a health and wellbeing equivalent of Neighbourhood Watch to keep an eye out for people in our own street with problems.

Transport is a big problem for many people. There is also a shortage of volunteer drivers to take people to hospital.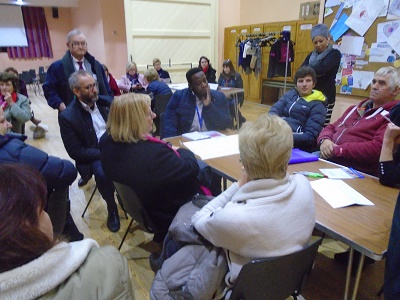 Discussion session
---
A Splendid Trip on the River for Dementia Friendly Abingdon Group, 28 August
Posted 2 September 2019
Members of a coffee-morning group set up by Dementia Friendly Abingdon, had a great river trip, organised by ourselves. We set off from the Henley Rowing Museum in the boat "Rivertime", at 11 am for a two-hour cruise. Our group was a mixture of people with dementia and their carers. One person was in a wheelchair. This presented no problems as the boat is equipped with a lift that allows seated wheelchair users to access the boat via a ramp, and to be lowered quietly down to the saloon.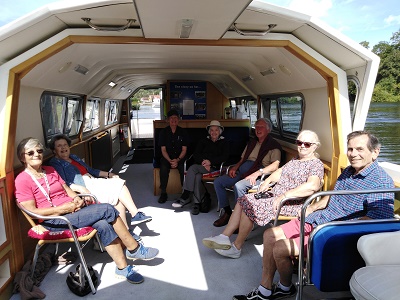 It was the most glorious late summer day, sunny and warm. We headed upstream for the first leg of our trip which was expected to be about an hour in that direction, followed by an hour's return.
However, as we approached Marsh Lock (the first) we learned that an incident had resulted in the temporary closure of the lock, and that we could go no further upstream.
Not to be deterred our crew turned the boat around and we sailed back through the middle of the town of Henley - a great experience on a very busy day. Riverside pubs and cafes were bursting with people. Beautiful and historic boats were tied up on the moorings. We felt very privileged as we glided coolly along in the comfort of our shaded saloon. We passed under Henley Bridge and on past the Rowing club stands. Once clear of the town, the scene became more rural, with a lot of birds including ducks swans, and red kites circling overhead. Refreshments were served!
We passed through Hambledon Lock which was quite busy. After a short distance downstream our crew (Derek and Tim) decided we should turn back upstream and head back towards Henley as there were signs the river traffic was higher than usual, probably because of the closure of Marsh Lock. This proved to be the case, and we had to wait quite a long time at Hambleton Lock as a result.
We arrived back at the Museum about twenty minutes later than planned, thanked Derek and Jim for looking after us so well and made our way to a very welcome afternoon tea at the Museum Café, before deciding to make our way back to Abingdon after a great day out.
The "Rivertime" is a 42 ft boat owned and operated by the Rivertime Boat Trust Charity, and staffed by volunteer crews. Details are on their website www.rivertimeboattrust.org.uk .
This trip, and an earlier one in May, took place with the help of a much appreciated grant from Christ's Hospital Charity of Abingdon, which covered the hire of the boat.
Dementia Action Week, 20 to 24 May 2019
The Dementia Friendly Abingdon Steering Group put on a great week of events to raise awareness of dementia and the work which the group is doing to make the town more dementia friendly. The poster for the week shows to range of events.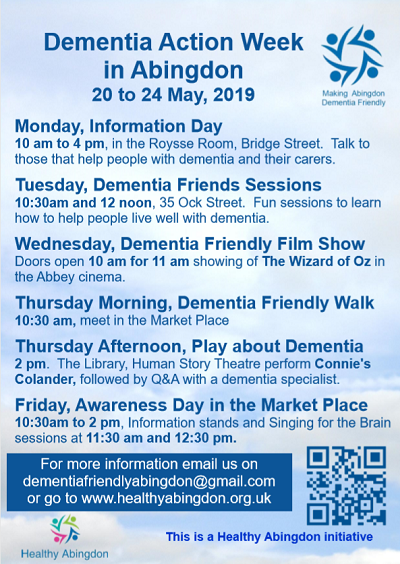 Dementia Action Week Poster
Groups exhibiting in the Guildhall Roysse Room on Monday included Dementia Friendly Abingdon, Kennington Memory Club, Carers Oxfordhsire, Chawley Grove Care Home (Cumnor Hill), Fiddle Fingers Quilts, Alzheimer's Society and OM Interactive (interactive floor/table projection). This event was reported on by the Oxford Mail and the Abingdon Blog.
| | |
| --- | --- |
| | |
| Exhibitor team photo taken for the Oxford Mail | Exhibitors in the Roysse Room |
On Tuesday, we held dementia awareness sessions at 35 Ock Street at which we signed up 13 Dementia Friends. These sessions were led by Jeannie Pyle who is a Dementia Friends Champion and a member of the Dementia Friendly Abingdon steering group..
The Abbey Cinema showed the Wizard of Oz in a dementia friendly showing on Wednesday morning. This may be the start of regular showings aimed at those with dementia and their carers.
On Thursday, the Library put on a play called Connie's Collander by the Human Story Theatre. Sensitively, with humour and tenderness, this newly written play traces the evolving relationship of Connie and her daughter caused by the impact of Connie's Alzheimer's. The play was followed by a Q&A Session with Kate Czeczko of the Alzheimer's Society.
| | |
| --- | --- |
| | |
| Wizard of Oz poster | Gaye Poole (R) and Amy Entickmap As Connie and her daughter |
On Friday, we took over the Market Place to hold "Singing for the Brain" sessions led by Kate Czeczko. Kate runs these sessions twice a month at the Peachcroft Christian Centre; link. We also had stalls on the market for people to talk to Dementia Oxfordshire, Alzheimer's Society, Carers Oxfordshire, Dementia Friendly Abingdon and Kennington Memory Club.
| | |
| --- | --- |
| | |
| Singing for the brain session | Singing for the brain session |
During the week, Barry Reeves and his wife Enid were interviewed about their experience of living with dementia and their involvement in a study at Oxford Health NHS Foundation Trust to help researchers understand the experiences of people with dementia. Barry is the carer for Enid and is also a Trustee of Healthy Abingdon and a valued member of the of the Dementia Friendly Abingdon Steering Group. The interviews can be found here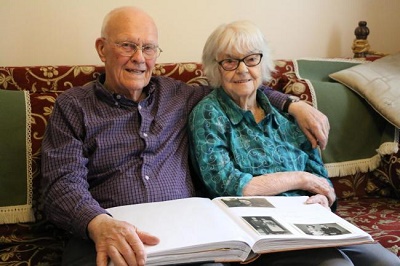 Barry and Enid Reeves
---
Music for the Mind and Body on 21 March 2019
Posted 25 March 2019
There is lots of evidence that music has many benefits for people's health and wellbeing. Listening to music is good and plying music or singing even better. Combing music with movement brings in another dimension to the benefits. We therefore held and event in order to hear about some of the many exciting musical activities going on in Abingdon.
The first presentation was from Jim Hines who is the Chair of the Abingdon Music Centre Trust who described the wide range of work they do to encourage the playing of music by people from small children to the very old. This includes work in schools and outreach work with care homes. More information on their work can be found here.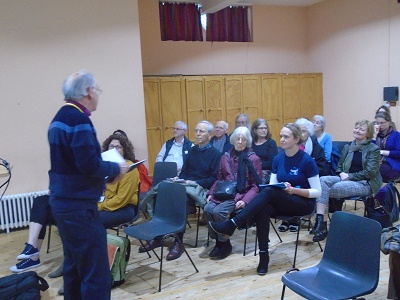 Presentation by Jim Hines
Ben Heaney, continued theme by talking about his wide experience as a musician and teacher. He has invented an inovative scheme called the Black Spot System to enable people to participate in musical activities. To fully illustrate this, he had us all following the system in order order to create music.
| | |
| --- | --- |
| | |
| Ben Heaney illustrating a point with his violin | Making music using Black Spot |
Angela Conlon from Oxford Health NHS Foundation Trust told us about the work on music and movement she is doing in various community hospitals including the Abingdon Hospital. This really helps to keep patients active as well providing much-needed fun. Angela illustrated what she does by having us all engage in music and movement activities.
Music and Movement
Kate Czeczko of the Alzheimer's Society told us about the new Singing for the Brain sessions in Abingdon. She told how amazing it was to find that people with dementia who were not able to speak could find their voice when singing songs from their past. You can find more on these sessions here.
Pat Bryden told us about sessions that she has set up on exercise to live music for people with Parkinson's disease. Her late husband had Parkinson's and they found it annoying that no such sessions took place nearer to home so she has set our to change this. Find out more here.
Hanne Fahl told us about an exciting new event that she is helping organise called Make Music Abingdon which will be on 21 June. Email her for more information.
Trinity Learning were not able to attend the event but left leaflets to say that they are seeking volunteers to help with singing sessions for children with special needs. Email them if interested.
---
Healthy Abingdon at the Clubs and Societies Day on 16 March 2019
Posted 20 March 2019
This regular showcase for community groups in Abingdon was held in the newly refurbished Guildhall complex in Abingdon. Healthy Abingdon and Dementia Friendly Abingdon had two stands side by side.
| | |
| --- | --- |
| | |
| Both stands together | Dementia Friendly Abingdon Stand |
We were kept busy all day with visitors to our stands and were able to spread the word about what we are doing to make Abingdon a better place. We signed up many people who wanted presentations from us in order for them to be recognised by the Alzheimer's Society as Dementia Friends.
Some of the interesting visitors to our stand were the Town Mayor and the Town Crier. We were also visited by creator of the Abingdon blog who covered his visit in one of his posts.
| | |
| --- | --- |
| | |
| Town Crier with Healthy-Abingdon's Ollie | Visitors |
We asked visitors to our stand what they thought we should do to make the town healthier and invited them to write down their idea on flip-board sheet. There was obviously a mixed bag of ideas with some being more practical than others but the main theme was to make it easier to cycle around the town. We will be considering which of the ideas we should take further.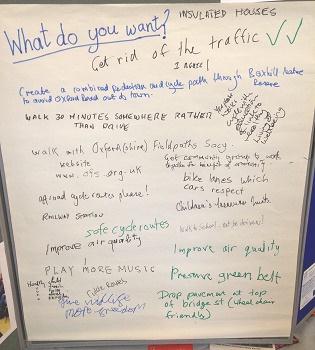 The comments on our flip chart
---
Healthy Abingdon Event on helping community groups, Thursday 6 December 2019
Posted 7 January 2019
Healthy Abingdon aims to bring community groups and statutory bodies together to improve health and wellbeing in the town. to do this well, we need a thriving community sector. This event was therefore to bring together the various organisations that can provide health and advice to community groups and small charities.
The meeting was very lively and was attended by 28 people - see pictures below.
The meeting was chaired by Ros Alstead OBE of Healthy Abingdon and involved the following presentations.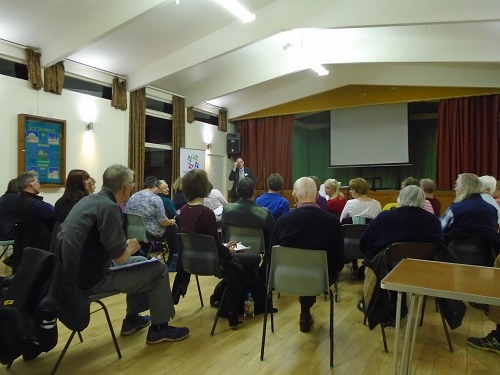 Maurice McCartney making his presentation
In addition to these presentations, Pat Bryden announced that a new group called Parkinson's Exercise to Live Music had been set up in Abingdon. Find out more.
Following the presentations, attendees had chance to talk directly with the presenters.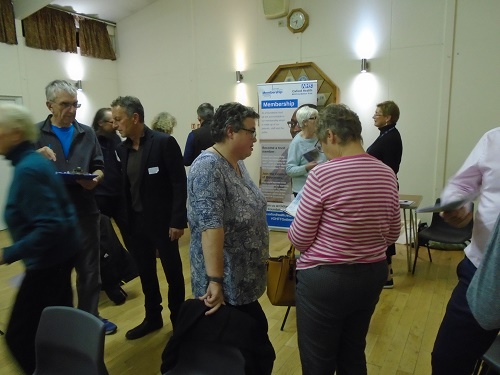 Individual discussions following the presentations
The next meeting will be in the new year and we hope to have something on music for therapy and wellbeing.
---
Healthy Abingdon Event on helping those with mental issues, 25 September 2018
Posted 16 October 2018
This was a lively event attended by 25 people including health professionals, people from the voluntary sector, members of the public, representatives of the health trusts and community police officers. The meeting was chaired by Ros Alstead OBE, a director of Oxford Health.

Listening to one of the presentations
There were the following presentations which included slides which can be viewed by following the link. There is also a link to a video for the last presentation.
The presentation was followed by discussion sessions and the points made by the three discussion groups are given below.
Group 1
The group noted that
Problems with contacting mental health teams out of hours (police find this a problem)

TalkingSpace Plus needs advertise their services more to the public.

TalkingSpace Plus should attend Thames Valley Police training days

Community transport an issue particularly for elderly and vulnerable people causing isolation.
Group 2
The group suggested that Healthy Abingdon (HA) could help with
Providing information about local support (some information on web site on Services and Associates page)

Providing dementia training in schools

Give help to people newly-diagnosed with dementia and those with mild cognitive impairment (MCI)

Give post natal support for both men as well as women

Give help to women with post natal depression
Group 3
The group noted that
It is important to publicise what is available

There are diverse nationalities in Abingdon

It is important to know who to refer people to if there is a problem/potential problem

We need to know our own neighbourhood better

Sometimes difficult to recognise vulnerable people, e.g. those with autism

More training needed about vulnerable people in shops and other places that deal with the public

Vital to involve the police in many issues

We need to involve the traditional charities more like WI and Rotary Clubs
Healthy Abingdon is reviewing these ideas and suggestions and deciding how best to deal with these.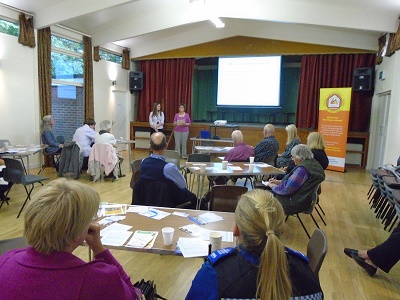 Safe Places presentation
---
Launch of Safe Places
Posted 26 July 2018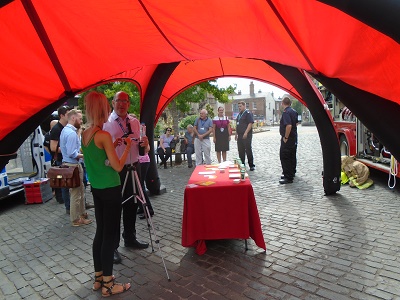 South and Vale District Council, Abingdon Fire Service and Community Police were present on Thursday 26 July to launch the Safe Spaces Scheme for Abingdon.
If someone is lost, anxious, confused or feels they are being bullied, abused or harrased while out, they can go to designated Safe Places.
Safe Places offer support to elderly people, people with dementia, those who may have physical or learning disabilities, people with mental health needs or someone who feels unwell.
For more information, go to safeplaces.org.uk.
---
News feature in Abingdon Herald
Posted 18 July 2018
"Dave Butterworth, founder of Healthy Abingdon, writes for Friends of Abingdon...
Civic pride is more than just about our history and buildings but it is also about the people of Abingdon today. In particular we should celebrate that we have more than 200 community and voluntary groups based in, or with major presence in, the town.
These groups cover a wide range of activities including sports, fitness, music, drama, history, nature, conservation, healthy eating, helping people with problems and much more. Their activities are aimed at children, the elderly, young people, those with chronic health problems or mental health and learning difficulties, and lonely people. You can find most of these groups listed on the town web site.
One common theme that unites these diverse groups is that they help to improve the health and wellbeing of the people of Abingdon.
Over the last year, another charitable group has been created called Healthy Abingdon whose aim is to bring these groups together to find ways of doing more by collaborating.
In addition, and very importantly, Healthy Abingdon brings together the community groups with the NHS and local government services so that by working together they should be able to achieve much more than working in isolation. Also we can see where the gaps are and find ways to fill them.
One thing that became clear from the start is that Abingdon is not doing as much as it should to make life easier for people with dementia. Indeed, some towns in Oxfordshire are doing much more than we are.
Healthy Abingdon has therefore brought a team of people together to develop ways to make the town more dementia friendly. The Alzheimer's Society is helping with this.
A main aim of the dementia initiative is to sign up as many people as possible as Dementia Friends. This includes those that work directly with the public such as café and shop staff, police and fire fighters.
Dementia Action week was on 21st to 27th of May and Healthy Abingdon used the Community Free Space in the shopping centre to raise awareness about dementia.
During the week various groups talked to the public about what they offer. These groups included The Alzheimer's Society, Dementia Oxfordshire, Soha Housing, Abingdon Court and Stowford House Care Homes, Daybreak, Oxfordshire Carers and Fiddle-Finger Quilts.
Another new initiative in Abingdon is to provide Safe Places for people who feel under threat or are just lost. This is mainly aimed at those with learning difficulties who, sadly, are sometimes the target of unprovoked abuse when out and about. This initiative is being led by the Oxfordshire Family Support Network in collaboration with South and Vale District Councils. A launch event is planned for Thursday 26th July.
So Abingdon is not just a pretty and historic town but one that takes pride in helping its people to experience happier, more-fulfilling and fun lives."
---
Dementia Action Week, 21 - 26 May
Posted 26 May 2018
Healthy Abingdon is working to make Abingdon more friendly towards those with dementia. We took the opportunity of Dementia Action Week to launch this initiative by setting ourselves up in the Community Free Space in Abingdon shopping centre.
During the week, different groups were present on different days/times
Also, some time was set aside for carers of those with dementia to come for a chat and have a cuppa. Both Stowford House and Abingdon Court Care Home brought some or their residents to join in the fun.
During the week, we talked to 68 passers-by about various aspects of dementia.
Scroll down to see some pictures of the week.
Abingdon Dementia Action Alliance
Dementia Action week is only the start for us. We have set up a Dementia Friends Steering Group which will be developing a number of ways of making the town more dementia friendly. This includes
Signing up Dementia Friends, including both members of the public and those who deal with the public like shop keepers, police and firefighters.

Encouraging shops and public events to be more friendly for those with dementia.
Contact us if you want to help. If you are a Dementia Friends Champion, we need your help in signing up more Dementia Friends in the town. Email healthyabingdon@aol.com or phone 01235 525955. Also, contact us if you want to register with the Alzheimer's Society as a Dementia Friend. We can provide an awareness session for you.
Pictures
| | |
| --- | --- |
| | |
| Our new logo for making Abingdon dementia friendly | Our Action Week poster was seen around the town. |
| | |
| --- | --- |
| | |
Team from Soha Housing

Stowford House encouraged people to talk to them by providing treats and entering names in a draw for the champagne
| | |
| --- | --- |
| | |
| Team from Abingdon Court with the Town Crier | Ian Giles entertained us with his playing |
---
Our third event - hearing about community groups
Posted 26 April 2018
| | |
| --- | --- |
| | |
| Individual discussions | Dance to Health presentation |
At our first event, it was suggested that we all need to hear what community groups provide to help with people's health and wellbeing. So, for this event we had presentations from community groups as well as providing the opportunity for other groups to talk directly with people. The four presentations were
Other groups present were
Shedoxford

Thames Valley Police

ARCh

ABCD Film Society

Kingfisher Canoe Club

More in Common

TalkingSpace Plus

Community Dental Service
---
Our second event - working with the NHS
Posted 14 December 2017
This event was attended by members of the community and providers of a range of NHS services including dental, mental, physiotherapy, community hospital and occupational therapy. the meeting was chaired by Ros Alstead of Oxford Health who also gave a presentation on the range of services NHS services available to the people of Abingdon. You can see the slides here.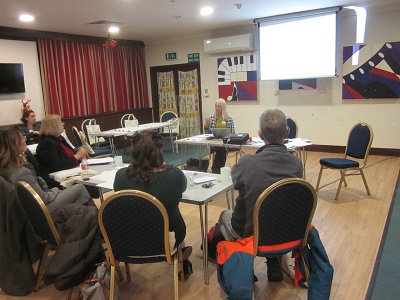 Ros Alstead chairing event
Most of the meeting was taken up by table discussions followed by feedback and plenary discussion. A report on the discussion will be included in this news item soon.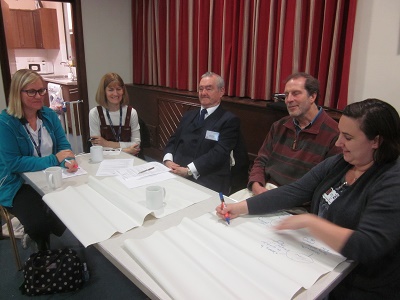 Discussion group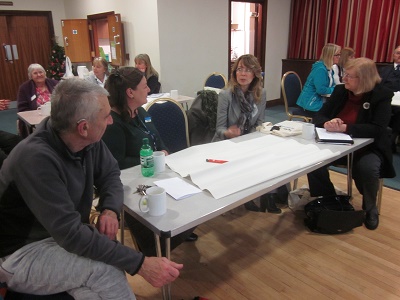 Discussion groups
---
Developments from first event - we are listening
Posted 12 November 2017
As can be seen in the next news item below, there were very many suggestions made at our first Healthy Abingdon event. We are keen to take on as many of these that fall within our remit and have so far
Set up a Facebook page with the help of Ashley Chapman of South and Vale District Councils.

Received a report giving statistics on health and wellbeing in Abingdon. This is with thanks to John Courouble of Oxfordshire County Council. This gives lots of useful information which will help us focus our ideas in future.

And we bring to your attention a report done in the past on the possible use of display units around the town to advertise events.

A suggestion was made that community groups wanted to have more opportunity to present themselves to the statutory bodies. This is causing us to make rethink how we run our future events.
Where we cannot deal things ourselves, we will pass them on to organisations who can.
---
Our first event, working with local government
Posted 12 October 2017
Our first event at Peachcroft in the early evening was well attended and extremely lively. The purpose of the meeting was to get community groups and others in Abingdon to talk to to representative of the Oxfordshire County Council, The Vale of White Horse District Council and the Town Council About what we we need from them to make Abingdon a healthier town.
Over thirty people attended the meeting and these included representatives from local government, the NHS and community groups. There were also members of the public present who represented themselves very effectively.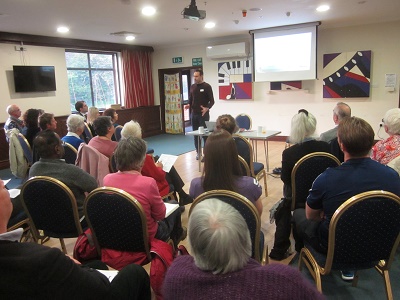 Ashley Chapman's presentation
The full programme of the event can be found here.
We had three main presentations from the County, District and Town Councils. The slide presentations from the County and District Councils can be viewed using the links below:
The third presentation was on what is provided by Abingdon Town Council and a note on this can be downloaded here.
The presentations generated much lively discussion and some of the main points raised were
A suggestion was made that we should look at what other towns have done similar to what we are trying in order to learn from them. We agreed that we need to continue to do this but had already looked at a number of other initiatives but had not found anything so far that was relevant to our situation.

It was suggested that we need to get more information on the particular needs in Abingdon in order to help prioritise our initiatives. This included finding detailed data specifically for Abingdon (rather than the Vale of White Horse) and even for particular Wards in the town

It was suggested that a comprehensive list of local community groups was needed rather than just the list of Healthy Abingdon Associates. However, Healthy Abingdon decided not to do this as four such excellent lists already existed and links to these are on the Service page of the web site.

It was suggested that community groups and charities should turn the tables on the statutory groups at some future meeting. By this, it was meant that community groups should be the presenters and statutory groups in the audience.

More thought needs to be given to ways of publicising events in the town. It was suggested that a hardcopy list of services and community groups would be of value for those who did not use computers. It was noted that it would be difficult and costly to keep this up to date and that, in any case, there were assistants in the Library who could help people use the computer.

Again, on publicity, it was suggested that we have a Facebook page. Whilst this point was accepted we don't currently have someone who is able to do this well.

Gardening was suggested as a healthy activity. It was noted that there were already groups like Stonehill Community Gardens and Incredible Edible Abingdon in, or on the boundary, of the town.

It was suggested that there are many benefits to be gained by the elderly working with children.

Related to the last point, there were many young families in the town who had moved from other places and had no family close by. Elderly neighbours could be very helpful in times of emergency and as someone with experience to talk to.

There was a need for more outdoor seating in the town to make it possible for the elderly or infirm to get out more because they could be sure of places to rest when tired. Seating at bus stops would also help these people because buses often ran late.

Singing was recognised as very therapeutic and there were a number of such groups. However, there was a need for more groups that encouraged men.

People were urged to get more involved with the work of the NHS Foundation Trusts through their Members, Governors and Peer Review schemes.

There was an urgent need for a large, indoor community space near the centre of the town

Community groups run by busy volunteers found it hard to know of and keep track of what grants were available and what the deadlines were. It was suggested that OCVA could help as could Grant Hayward.
If you were at the event and think some other important point was made. please let us know and we can add it to the list.
| | |
| --- | --- |
| | |
| Audience | Networking |
---
Our birth!
Posted 4 August 2017
The concept arose from a series of discussions starting in March 2016 between Ros Alstead and Dave Butterworth which were facilitated by a project called Leading Together aimed at bringing health professionals and lay people together to take initiatives to improve health. Ros is a Director of Oxford Health NHS Foundation Trust which runs the Abingdon Community Hospital and teams in the town concerned with mental and physical health and wellbeing. At the time Dave was the OCVA Community Ambassador for Abingdon and was therefore working with voluntary and community Groups in the town. From our complementary knowledge of the NHS and community groups, we wanted to find ways that the NHS and these groups could work better together improve health and wellbeing in the town.
| | |
| --- | --- |
| | |
| Ros Alstead | Dave Butterworth |
We held a meeting of of interested parties at the end of June 2016 to sound out peoples' views and consider what sort of activities we might engage in. Following this meeting, a launch event was held in September. At this stage, the idea was that Healthy Abingdon should be a joint activity between Oxford Health and OCVA with OCVA managing the project. However, this did not fit in well with OCVA's objects and their contract with Oxfordshire County Council. We therefore found it necessary to set up as an independent charity which, unfortunately, took some time.
| | |
| --- | --- |
| | |
| June discussion meeting | Stuart Bell, Oxford Health Chief Executive speaking at our September launch event |
We eventually became a registered charity at the end of March 2017 (charity number 1172245). Monica Lovatt joined Ros and Dave as the the founding trustees. Monica is an Abingdon Town Councillor (ex Mayor) and the vice chair of the Vale of White Horse District Council. As an ex nurse, she has a strong interest in health and sits on a number of key Oxfordshire health committees.

Monica Lovatt
We have until now been working on all the practical details of setting up charity such as opening a bank account, launching a web site and getting our key policies and procedure in place. We have also been signing up charitable groups as Associates to work with us on helping to make the people of Abingdon as healthy as possible. We are planning to have our first meeting of Associates on September 2017.